More About Nick Chase.....
Your humble webmaster in his role as
captain of the Carlisle Colonial Minute Men, 1994-96.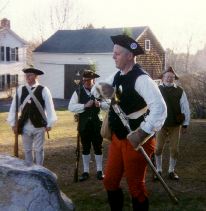 Photos by Bobbie Chase, April 17, 1995.
For more Minute Men photos, visit Economic Democracy" - Patriots Day, 1975.
---
This page was last updated August 25, 2005 by Nick Chase (onashi@charter.net).